Designed by e steed
the verve online © 2007
ALL RIGHTS RESERVED
September 24 2010 Pete Salisbury joins The Charlatans
... to replace Jon Brookes who is battling with a brain tumour (he collapsed at a gig in Philadelphia on 15-09-2010). He was later diagnosed with brain cancer so will be taking a break to focus on his health. The Charlatans intend to carry on performing and have hired Salisbury to take over on drums on their forthcoming UK tour.

December 17 2009 Richard forms new band called RPA & The United Nations of Sound
No I.D. is to produce Richard's forthcoming solo album (as yet untitled) that is due out in April 2010. Richard was impressed with No I.D.'s production of Jay-Z's 'D.O.A.' and an interview where No I.D. spoke of how some producers destroy albums just for the sales. Richard's newly formed band "RPA & The United Nations Of Sound' went in and recorded between 20-30 songs in New York, Los Angeles and London. String arrangements are by Benjamin Wright, the man responsible for the strings on Michael Jackson's 'Off The Wall', and engineered by Grammy Award-winning Motown legend Reggie Dozier (Outkast, Stevie Wonder, Marvin Gaye). Other musicians featuring on the album include Mary J Blige's guitarist Steve Wyreman, Paul 'DW' Wright (bass), and Derrick Wright (drums).
August 11 2009 Have The Verve split?
Rumours have been increasing that The Verve have split for the third time. First reported by The Mirror and quickly followed by various websites, apparently Richard hasn't spoken to Nick or Si since V Festival last August and claimed he wouldn't be part of The Verve if Nick continued to drink. Nick quit drinking but relationships still appeared to have been strained.
THIS HAS NOT BEEN OFFICIALLY CONFIRMED AS TRUE.
August 2009 Pete helps out at children's workshop
Pete Salisbury led a rhythm and rhyme workshop for children at their play scheme at the Fairfield Centre, Buxton alongside local musician Pete Proudlove.
Derbyshire county councillor Tracy Critchlow said, "It was great that an internationally-renowned musician was willing to give up his time to share his expertise with young children and their families. The rhythm and rhyme session was brilliant fun for the children and their parents and carers".
July 24 2009 Verve officially 'on holiday'
As announced on Si Jones myspace page, The Verve are 'on holiday', and together with Nick McCabe, Davide Rossi (violinist on Forth and several live performances with The Verve in 2008) and long-term friend of Nick's Mig Schillace have formed a band called The Black Ships.
There's also been some collaboration by Si and Nick with Jeff Wootton.

July 4 2009 Allen Klein dies
Allen Klein (who cheated The Verve out of 100% royalties for Bitter Sweet Symphony) dies at the age of 77 from a complication of Alzheimer's Disease. Quoted as saying, "Artists f**k the groupies, I f**k the artists" he probably won't be missed by anyone in the music industry.
April 2009 Nick McCabe updates his myspace
No Verve news unfortunately, seems The Verve are having a "holiday". To fill in the time, Nick and Simon have been busy with a new project with Davide Rossi (the brilliant violinist who performed with The Verve at various festivals in 2008) and an old friend Michelle Schillace, a multi-instrumentalist. They've had two sessions in Copenhagen and one at Nick's place in Walworth - "expect Krautrock style excursions into the unknown" and maybe a pop record. They have generated a huge amount of material and have several interesting vocalists in mind.
Nick, together with Jamie and Alex from Bath's X is Loaded, and Charley Bickers, played together for the first time, at Nick's place in Walworth.
Nick also played with Damo Suzuki, Jeff wooton and Mark Heaney at Night and Day Cafe, Manchester and will be working more with both Jeff and Mark in the near future.


18 Feb 2009 Brit Awards
The Verve were nominated for 'Best British Live Act' at the 2009 Brit Awards, alongside Coldplay, Iron Maiden, Elbow and Scouting For Girls. Iron Maiden won this category.
23 Nov 2008 Rather Be - single
Rather Be made a disappointing entry in the UK Singles charts at No.56.

19 Nov 2008 News of Snakeskin - the rarest of all Verve records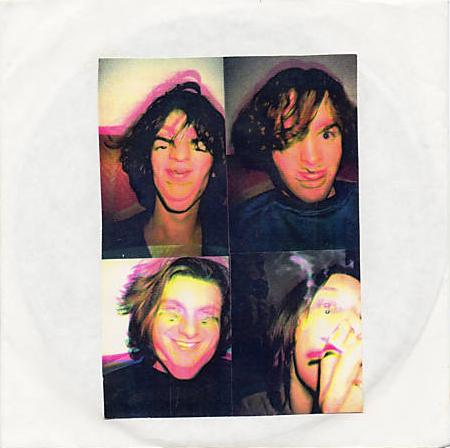 News broke (here first on www.theverveonline.com) of 'Snakeskin' - the rarest of all Verve records! Only 5 copies exist and it was until now unheard of by even the most hardcore Verve collectors.
The track was inspired by The Rolling Stones 'Cocksucker Blues' and was recorded at Richard Branson's Manor Studios in Oxfordshire in 1992 during the 'She's A Superstar' sessions. Each of the band members, plus Dave Halliwell their manager, was given a copy by Hut Records as a Christmas present in 1992.
The record came to the attention of fans when Dave Halliwell decided to put his copy up for sale on ebay, with a price tag of £5750.
07 Oct 2008 Andrew Loog Oldham derides The Verve
In an interview for Uncut (Nov '08) Andrew Loog Oldham derided The Verve over their use of a Stones sample on Bitter Sweet Symphony.
He joked to Uncut that he'd bought "a pretty presentable watch strap" with the royalties he'd earned from the song.
He said, "They [Allen Klein, Mick Jagger and Keith Richards] have the watch and I have a pretty presentable watch strap. That's my little piece".
"As for Richard Ashcroft, well, I don't know how an artist can be severely damaged by that experience. Songwriters have learned to call songs their children, and he thinks he wrote something. He didn't. I hope he's got over it. It takes a while".
Source: www.nme.com and Nov. Uncut
For some facts about the Bitter Sweet Symphony legal battle, read 'A Bitter Sweet Story' on the link opposite.
(My thoughts about the above article: I think the watch/watchstrap would look so much nicer on The Staple Singers who obviously have a bigger right to them!)

04 Oct 2008 The Verve join the fight for Artists Rights
Rockers Radiohead and THE VERVE are among a group of British musicians who have formed a new organisation in a bid to fight for artists' rights in the digital distribution of their music.
The Featured Artists' Coalition launches on Sunday (05Oct08) at the In the City conference in Manchester, England.
Founding members include Angels singer Robbie Williams, former Pink Floyd guitarist David Gilmour, DJ Paul Oakenfold, Craig David, Iron Maiden, Kaiser Chiefs and the Klaxons.
The organisation aims to help artists strike better deals with record companies and digital distributors, and will involve organisations such as the government and music companies, arguing for fair play and exposing unfair practices in the industry.
Badly Drawn Boy star Damon Gough, who is also involved in the campaign, says, "I think with the digital and record companies dispersing and disbanding, young bands need a governing voice that will support them and help protect their work."
And Radiohead are encouraging other musicians to join their organisation.
The group split from record company EMI late last year (07), blaming a copyright dispute for their departure. They then released their LP In Rainbows online, allowing fans to choose how much they wanted to pay for the album in a 'pay-what-you-like' scheme.
Radiohead guitarist Ed O'Brien says, "For us, this is a no-brainer and we believe all artists and musicians should be signing up."

source: www.contactmusic.com

22 Sept 2008 Nick McCabe to play a rare DJ set in London in October
Nick McCabe will appear at the 1234 Action night at Old Blue Last on October 7. Doors open at 8pm, admission is free.
Playing live on the night are Lowline, who release their new single 'The Sound Of Music' on October 13. Nick has joined the Manchester band onstage several times in the past.
Source: www.nme.com

22 Sept 2008 Forth dropped to No. 10 in the UK album chart
Forth dropped six places this week from last week's No.4 spot.

19 Sept 2008 Simon Jones jealous of Richard's solo career
Simon Jones confessed he struggled to watch Richard make a success of his solo career. He said, "I couldn't listen to it. I had lost my band and he went on to have a solo career and that was painful.
"When Richard played with Coldplay I turned it off. I had to find a way to deal with the fact that this thing that was so precious to me was lost.
"My way to deal with that was not to listen to Richard's records."

19 Sept 2008 The Verve promise fans they won't split
Simon Jones has reassured fans they will not split again and they will work through any disagreements. He said, ".... it won't be 'F**k you, f**k you, f**k you and f**k you.'"

17 Sept 2008 Richard's smoking habit could threaten their shows
The Verve refuse to line up lengthy concert runs because Richard's smoking habit leaves him struggling onstage.
Fellow smoker Simon Jones admits he pities his band-mate because he's always battling cigarette-related issues on the road, which often leave him with performance problems.
Jones says, "I really feel for Richard because he smokes, and that's hard when you've got phlegm on your lungs and you get a cold or whatever.
"I know that he struggles, especially when we've got a lot of gigs on the run. We're not really made to do that. We can't do that physically."
But Jones insists he'd never suggest Richard stops smoking - because that's the vice that helps him calm his nerves: "That's his own thing. I smoke, so I've got no place to say anything."

Source: www.contactmusic.com
14 Sept 2008 Forth drops to No.4 in the UK Album Charts
After two weeks at the No.1 spot in the UK Album Charts, Forth drops to No.4

Sept 2008 The Verve turn down multi-album deal
The Verve refused to sign a new multi-album deal as they are keen to avoid the treadmill of releasing albums/touring which became their downfall when the band split in 1999.
Sept 2008 Simon Jones revealed why Simon Tong wasn't part of the band reunion.
The reason The Verve reformed without Simon Tong was to keep the internal issues to a minimum. Simon Tong initially became part of the band in 1997 to replace Nick McCabe, but when Nick came back they remained a five-piece. For the 2007 reunion they wanted to go back to the four core members again. Simon Tong understood and there were no hard feelings.
31 Aug 2008 FORTH hits the US charts

Forth debuted at #1 Billboard Indie and #23 Billboard.
31 Aug 2008 FORTH goes straight to the top of the UK album charts.

Forth went straight to No.1 of the UK album charts, the first week of its release.
25 Aug 2008 Richard Ashcroft plays solo gig

Richard Ashcroft played an acoustic solo set at The Last Days Of Summer festival at Stowe House, Northamptonshire. Although he played before Athlete and Supergrass, he was undoubtedly the star of the day and wowed the audience with a stunning performance.
20 Aug 2008 The Verve to continue after Forth

The Verve considers its forthcoming album "Forth," the reunited British group's first new set in 11 years, to be the beginning of its new era -- and the continuation of a career that's been interrupted by two previous break-ups.

"This definitely is an ongoing concern; it's not something that we're all just gonna chuck away again," bassist Simon Jones tells billboard.com. "Looking back I don't think we had to be so blunt and, 'Alright, we're splitting up!' really. We should've just chilled out for a bit and taken some time out, to be honest.

"But obviously we all had a deep yearning inside to get back to do this or it wouldn't have happened. I just hope we don't split up again, now ... 'cause it becomes a bit silly, doesn't it?' "

Since reuniting in 2007, the Verve has played dates in Great Britain, Europe and the U.S., and Jones says the quartet is chomping at the bit to get back to North America once "Forth" comes out on Tuesday.

"It's gonna be towards the end of this year or the beginning of the new one," he notes. "We've got such a good fan base over there. We did so much touring early on and did Lollapalooza (in 1994). We did six dates earlier this year, and it wasn't enough. I want to visit all those places we've been where we know we've got fans and breathe life into these new songs from ('Forth'). That's definitely on our list of things to do."


Jones confirms that Verve front man Richard Ashcroft is contractually obligated to record another solo album, but says it will not interfere with whatever is next for the band.

"I don't think us being back together means we have to do a record every year," Jones says. "We'll do it on our own terms and at our own pace. But, definitely, all of us want to pursue this. It's something that means a lot to all of us. It's a bit of a shock to be doing it again, but a very nice shock, really."

source: www.billboard.com

17 Aug 2008 The Verve close V Festival

The Verve close their summer of festivals at Chelmsford V with a stunning performance including three new songs from their new album: Sit And Wonder, Rather Be and new single Love is Noise. The Rolling People was dedicated to the late soul singer Isaac Hayes. The band seemed happy together despite rumours of V being cancelled due to band conflict. Richard gave all his band-mates a name-check to a round of applause.
17 Aug 2008 Love Is Noise reaches No. 4

Love Is Noise creeps up one place from last week to number four in the UK singles chart.
11 Aug 2008 Love Is Noise Hits The Charts

Love Is Noise hit the UK singles charts at No.5, being the highest climber of the week. It was released on iTunes as a download on 3 Aug and a physical release on 11 Aug.
09-10 Aug 2008 Summer Sonic / Japan

Holy Moly reported that Nick McCabe had allegedly been sectioned after the gig at Summer Sonic in Japan. He was said to have been hospitalised after the gig and flew home separately from his bandmates. It was also speculated that V Festival would be cancelled but a spokesperson for the band denied this and a statement was made insisting that Nick had only cut his finger on a piece of glass in his dressing room.
May-Aug 2008 European Tour/Festivals

Starting in Switzerland on 30 May with Fest'neuch and ending with V Festival on 17 August, The Verve have been enjoying a summer of successful festivals, the highlight surely being Glastonbury on June 29. Only one date has been cancelled due to Richard having pharyngitis and a chest infection, which was Italia Wave in Italy. Each set has closed with 'Bitter Sweet Symphony' leading into 'Love Is Noise' , and two more new songs besides 'Sit And Wonder' and 'Love Is Noise' have been aired, "Rather Be" and "I See Houses".

5 Aug 2008 Maida Vale Studio Session

The Verve put on a stunning performance at BBC R1 Maida Vale Studios, introduced by Zane Lowe.
July 2008 Love Is Noise video

The video for Love Is Noise was available to watch from 10 July on the Verve's Myspace page, and it was premiered on Channel 4 on 14 July.

2 July 2008 Album cover art revealed

The cover art for the forthcoming album, 'Forth' was revealed. The image was shot by Uwe Duettmann and designed for cover-readiness by Studio Fury.

30 June 2008 Mover available as a free download

Mover, a song from 1994 which had previously only been heard as a live track, was made available as a studio version to download for free from the official Verve website for one week only.

23 June 2008 Love Is Noise aired on Radio 1

The Verve's first single for over a decade, "Love Is Noise" was premiered on Radio 1, and could also be listened to on their myspace page.

Apr & May 2008 US & Canada Tour

The Verve performed a handful of successful dates in the US and one in Canada. During the tour another new song "Love Is Noise" was aired besides the previously aired "Sit And Wonder".

27 Mar 2008 Nick McCabe and Simon Jones

(and ex Verve member Simon Tong)
...joined Radiohead's Thom York in contributing to John Mathias and Nick Ryans' remix album 'Cortical Songs' - a new classical music project - set to be released in May.

04 Feb 2008 Mystery Verve Film

A mysterious film-maker, apparently producing a documentary about The Verve for Channel Four, has been filming in Wigan at the Honeysuckle Pub where they performed their first gig in 1990.

12 Jan 2008 Nick joined Manchester band Lowline

...a
t a secret guerrilla gig outside Manchester. The gig, which took place following a video shoot for the band's new single 'Monitors', was witnessed by 300 people. McCabe joined the band on guitar for the performance - which took place in a disused warehouse. Lowline's new single has been produced by former Verve and Oasis producer Owen Morris and was out on March 3rd.

The Verve's 2nd leg of their reunion tour seemed to get off to a shaky start on 11 Dec at Nottingham Arena. Apparently the acoustics were poor and Richard was said to have been a bit off-key at times (come on - we all have our off days!). Their next show 2 days later, however, saw them back on top form at the 02 Arena, London. Bitter Sweet Symphony brought the whole house to its feet, Lucky Man climaxed with Richard smashing his guitar and the only minor hiccup was when Nick got cramp in his hand during The Rolling People. He was forced to leave the stage for a brief period while Richard kept the show going single-handed with The Drugs Don't Work. It was Relief all round when Nick returned to the stage, patted Richard on the shoulder, and on with the show.
Glasgow, SECC 15 Dec, saw them remaining on top form with Richard joking, "I've got my Glasgow glasses on tonight - Saturday night in Glasgow the beer will be flying!" Later he continued, "I'm having a good time so I'll take them off but if the beer comes near they're going back on!"
Another highly successful night in Belfast on 17 Dec, with Richard dedicating Sonnet to the memory of a lifelong idol of his, George Best.
The tour came to a close with two final mind-blowing shows at Manchester 20/21 Dec.
November 2007 Reunion tour

2 dates each in Glasgow, Blackpool and London - were all a resounding success, with the London Roundhouse gig said to be one of the best they'd ever done. A new song "Sit And Wonder" was aired for the first time on this tour.

22 Oct 2007 The Thaw Session

The first moments of The Verve's reunion was made available to fans in a 14 minute free download exclusively from the NME website. "The Thaw Session" was a reference to "Deep Freeze", a hidden track on Urban Hymns, the Verve's last album before they split in 1998.

03 Oct 2007 The Verve break their silence

The band speak for the first time since their reunion in a world exclusive interview with NME where they reveal they got back together purely for the joy of music.

18 Sept 2007 Simon Jones on Radio 1

Simon talks about the new album and the Peel Sessions from 1992 - Slide Away & She's A Superstar re-broadcast.

1 Sept 2007 Bitter Sweet Symphony most perfect song

In a survey conducted by Q Magazine, Bitter Sweet Symphony was voted the best/sixth? most perfect song ever by songwriters. (conflicting information!)

7 July 2007 According to NME

Richard had spoken to the band's manager, Jazz Summers, about a possible reunion a couple of months previously, saying "You know, we made fantastic music. I think it would be fantastic if we got back together".

6 July 2007 Tickets went on sale for reunion tour

Tickets for all dates were sold out within 20 minutes of going on sale. Many fans were disappointed.

26 June 2007 The band's reunion was announced.

It was announced that Richard Ashcroft, Nick McCabe, Simon Jones and Pete Salisbury would reunite once more to reform The Verve. It came as a huge shock to fans as only earlier in the year Richard Ashcroft was quoted as saying "There would be more chance of getting all four Beatles together on stage than a Verve reunion". Dates for a November tour were announced - 2 each for Glasgow, Blackpool and London, and an album promised for the end of the summer. Simon Tong did not rejoin fellow bandmates, but chose to continue to work with The Good, The Bad and The Queen.
[back to top]